Balakrishnan Distinguished Lecture
Balakrishnan Distinguished Lecture in Population Dynamics and Inequality
3:00pm - 4:00pm
Thursday October 31, 2019
University College 3110 (Conron Hall)   (location info)
Young Adult Cohabitation: Redefining Relationships
The family form is changing; the rate of marriage among young people in the United States is decreasing, with many people delaying marriage, or simply not marrying. Wendy Manning will examine the trends and patterns of cohabitation among young people, aged 18 to 29, and what impact these trends have on their psychological and economic health.
A lecture by Dr. Wendy Manning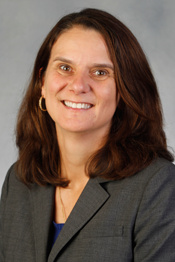 Wendy D. Manning currently serves as Director of the Center for Family and Demographic Research and Co-Director for the National Center for Family & Marriage Research. She is a family demographer, and her research examines how family members define and understand their obligations to each other in an era of increasingly diverse and complex family relationships. She led the research for the ASA Amicus Brief filed to the U.S. Supreme Court in same-sex marriage cases. Manning has examined the meaning of cohabitation with her work on the measurement of cohabitation, fertility in cohabiting unions, the stability of cohabiting unions, transitions to marriage, and implications of cohabitation for adult and child well-being. Her work has focused on adolescent sexual decision-making as well as the patterning and quality of young adult relationships.
Established in 2016, the goal of the Balakrishnan Distinguished Lecture in Population Dynamics and Inequality, to enhance the excellence in the Department of Sociology in Population Dynamics and Inequality and to give visibility for the University in this area in the academic world. The lecture series is made possible due to the support of Professor Emeritus T.R.  Balakrishnan and Lois F. Leatham.
Past Lectures