Sociology
WELCOME TO SOCIOLOGY AT WESTERN  
Western Sociology has a historic strength and commitment to research excellence in the field of Population Dynamics and Social Inequality. Our productive and internationally recognized faculty publish in the discipline's most prestigious journals. We offer outstanding research training for graduate students at both the M.A. and Ph.D. levels in the theoretical and empirical study of various dimensions of Population Dynamics and Social Inequality. Western Sociology is also home to award-winning teachers and offers undergraduate programs in both Sociology and Criminology. Check out the above links for more information about our academic programs and faculty.
News & Announcements
Congratulations to Laura Wright winner of the 2015 Ellen Nilsen Sociology Graduate Student Award of Excellence
Congratulations to to Nicole Etherington who was presented with the Centre for Population, Aging, and Health's annual essay award
Congratulations to Holly Trower, winner of the James J. Teevan Best Undergraduate Essay in Sociology
Congratulations to Akiel Gallina, winner of the Robert K. Merton Best Undergraduate Essay in Criminology
PhD candidate, Nicole Etherington, received an IGH Award for Excellence in Gender, Sex and Health Research from the CIHR Institute of Gender and Health, which recognizes research excellence among graduate students and postdoctoral fellows working in the field of gender, sex and health research. They commended her "innovative sex- and gender-based approach to understanding and addressing pressing health challenges". This is an impressive accomplishment! Congratulations, Nicole!
William Mullins-Johnson visited Western as part of our involvement in Wrongful Conviction Day.
Guest Speaker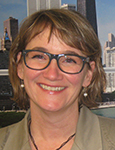 Dr. Amy Bailey
Amy Bailey is an Assistant Professor in the Department of Sociology at University of Illinois - Chicago. Her research examines race and inequality, with two key areas of focus. The first, which was the subject of her dissertation, examines the military, especially the interplay between individual and collective outcomes. This line of work examines a variety of questions, including the military's effects on migration and population redistribution, the changing racialized dynamics between military employment and intergenerational mobility, and the links between community-level socioeconomic characteristics and military participation among young adults. She is a 2015-16 Research Scholar at the Great Cities Institute, which supports her current project, "Transition to Adulthood for Working Class Youth: Institutions and Informal Practices in Local Communities."
Co-Author of:
Her second area of research focuses on historical patterns of racial violence in the American South, more commonly known as lynching. She is particularly interested in the characteristics of individuals who were targeted for victimization. She currently holds a grant from the National Science Foundation to build a database using census records for individuals who were threatened with lynching or survived an attempted lynching.